Nocturne of November 13, 2015
The MAC is all yours from 5 p.m. to 2 a.m. !
The Nocturne of November 13 will run all the way to 2 a.m.! A unique urban experience, in the heart of downtown and a hub of creativity. On the program: exhibitions, art workshops, DJs, atmospheric lighting and Nocturne cocktails.
Join the MAC:  Four Nocturnes… priority access!
Program
Continuous activities
Visits of the exhibitions until 2 a.m.
Artist performance from 7 to 8 p.m.
Interactive tours
DJs from 5 p.m. to 2 a.m.
Art workshop from 6 p.m. to 12 a.m.
Musée educators will be on hand in all the galleries to answer your questions
Bar service and light bites
Exhibitions
Performance by Patrick Bernatchez

For this Nocturne, we are presenting a performance by Patrick Bernatchez from 7 to 8 p.m. in the heart of his exhibition Les Temps inachevés exhibition.
From within his installation 77k, 1er, 2e et 3e mouvement (Goldberg Experienced.03), made up of a 16-mm film, 8 record players and 8 33-rpm records, the artist will immerse us in an enigmatic atmosphere. He will alter and accentuate sound levels by modulating the components of his work.
Art Workshop
Art with a Twist
6 p.m. to 12 a.m.
Slowly and continuously, one twist at a time, we will wrap a small, everyday object with thread and turn it into a novel cocoon. This assembly operation will be preceded and followed by a drawing activity involving observation and interpretation. For this occasion, we will take our inspiration from a remarkable 2007-2013 work titled Fashion Plaza Nights, by Patrick Bernatchez.
Interactive tours
To give visitors a full appreciation of the current exhibitions, four tours will be offered during the Nocturne. These user-friendly visits will facilitate exchanges of views and ideas on the exhibitions, and will be held at:
7:30 p.m.
8 p.m.
8:30 p.m.
9 p.m.
From 6 to 11 p.m., educators will also be on hand in the galleries to answer visitors' questions.
DJs
Schedule
5 p.m. to 2 a.m.: music, workshops, bar
Fee(s)
$14Free for MACarte holdersCoat check: $2
Please note
Tickets will be available at the Musée starting at 5 p.m. on the night of the event.
Priority access for MACarte holders.
The Nocturnes at the MAC are a unique concept that sees the Musée throw open its doors past midnight. Throughout the evening, you can visit the exhibitions, take in a live performance or a gallery talk with an artist or curator, or enjoy a bite to eat or a drink. The Nocturnes evenings make the MAC the perfect spot for a get-together with friends.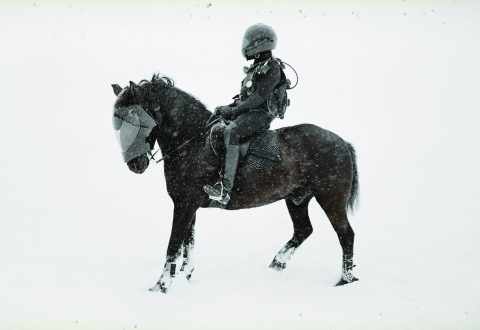 Past Exhibition
Patrick Bernatchez
The exhibition presents a significant body of works taken from two major projects: Chrysalides and Lost in Time. Bernatchez's artistic process involves creating distinct pieces – drawings, photographs, films, sound pieces, installations – that form part of a larger conceptual project.
The