The MAC's Art Workshops offer visitors of all ages an opportunity to enhance their aesthetic experience by trying out various techniques, media and materials related to a concept or theme inspired by the exhibitions presented. By encouraging artistic expression, they help develop participants' desire and ability to create. In addition to these objectives, the workshops help demystify the creative process and make contemporary art more accessible thanks to their hands-on approach.
Schedule for preschool, elementary and secondary school groups
Monday to Friday at 9, 9:30, 10:30 and 11 a.m., and 12:30, 1 and 2 p.m.
Available for one class
Length: 60 minutes
Minimum age: four
Schedule for college, university and all other groups of adults
Monday to Friday (length: 60 minutes) at 9, 9:30, 10:30 and 11 a.m., and 12:30, 1 and 2 p.m.
Monday to Friday (length: 90 minutes) from 1 to 3:30 p.m.
Available for 30 participants
You can also reserve by phone, at 514 847-6253
Monday to Friday, from 8:30 a.m. to 4:30 p.m.
Workshop themes vary according to the exhibitions presented.
These workshops for groups are also offered to the general public on Sunday afternoons.
Breathe In, Breathe Out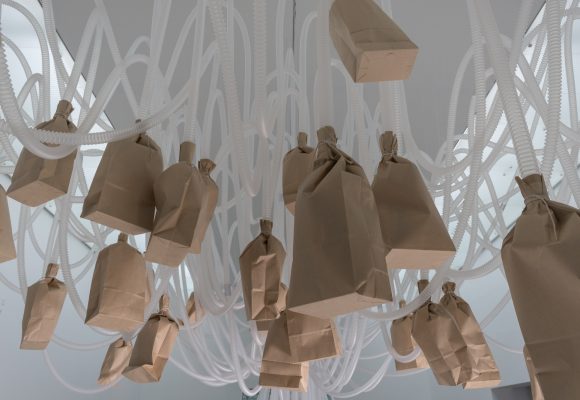 © Rafael Lozano-Hemmer, Vicious Circular Breathing, 2013
The works Vicious Circular Breathing, 2013, Airborne Newcast, 2013, and Zoom Pavilion, 2015, by Rafael Lozano-Hemmer, will provide the breath of inspiration for this novel creative activity.
Participants will be invited to produce a self-portrait/silhouette that will reveal the space occupied by their body in public space. Graphic elements will energize the overall composition, which will also include a component inflated by their own breath.