This exhibition turns the spotlight on one of the less well-established figures in the history of recent Québec art. The ambiguity of Alleyn's position is partly explained by his absence from Québec at the time of the Quiet Revolution. However, it is mainly due to the "multiple personalities" he embodied as an artist. Alleyn went through a succession of stylistic shifts that enabled him to resist any attempt at a definitive classification. Through a selection of sixty or so works, this retrospective takes a look at Alleyn's career, tracing key moments in his artistic path from the late 1950s to the early 2000s, and so illustrating the versatility of this protean artist.
Noteworthy
First retrospective devoted to the artist since his death in 2004. His previous retrospective dates back to 1994-1995, when the Musée national des beaux-arts du Québec and the Musée de Joliette collaborated on the presentation of Les Horizons d'attentes 1955–1995.
First major publication in a decade, with essays contributed by Olivier Asselin, Vincent Bonin, Mark Lanctôt, Gilles Lapointe and Aude Weber-Houde.
Biography
Born in Québec City in 1931 to a family of English and Irish heritage, Edmund Alleyn attended the École des beaux-arts in Québec City, where he studied with Jean-Paul Lemieux. In 1955, he won the Grand Prix aux concours artistiques de la Province de Québec and a grant from the Royal Society of Canada.
From 1955 to 1970, Alleyn lived in France, where he explored lyric abstraction, then drew inspiration from West Coast Native art and, finally, moved toward an imagery that came out of the world of technology, electronics and mass media. On his return to Québec, he was struck by the changes that had taken place while he was away, and his art shows signs of this impression. In 1990, he exhibited the Indigo series at the Galerie d'art Lavalin and at 49th Parallel in New York. At the Musée des Beaux-Arts in Sherbrooke in 2004, he showed his final series, Les Éphmérides, which comprises 12 large canvases as well as ink washes. Alleyn died on December 24, 2004, at the age of 73.
Series of five conversations
In addition to presenting the exhibition devoted to the artist, the Musée underscored the importance of Edmund Alleyn with a series of public conversations about the man and his work. These conversations, mostly in French, are now available in audio format.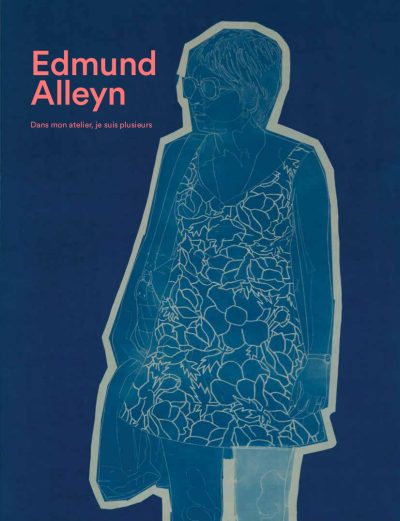 Edmund Alleyn
Mark Lanctôt, avec la collaboration d'Olivier Asselin, Vincent Bonin, Gilles Lapointe, Aude Weber-Houde, 2016, 978-2-551-25749-2, 216 pages, 100 ill. (60 col.) in softcover.
$39.95