This retrospective exhibition highlights the key role of artist Françoise Sullivan in the history of modern and contemporary art in Quebec. It's a chance for visitors to discover or rediscover an artist whose major impact on Quebec and Canadian culture deserves to be more fully recognized.
In addition to presenting the artist's diverse and multidisciplinary practice, the exhibition offers an in-depth exploration of some of the milestones in her career. The various styles and approaches adopted by Sullivan over the years are contextualized with the help of archival documents.
Notable fact 
This exhibition coincides with the 70th anniversary of the publication of Refus global, a manifesto that marked a turning point in the cultural history of Quebec and was co-signed by Françoise Sullivan.
The retrospective Françoise Sullivan will be on display after Montréal in other cities across Canada. This touring project, organized by the Musée d'art contemporain de Montréal, is funded in part by the Government of Canada.
Biography
Born in Montreal in 1923, Françoise Sullivan studied at Montreal's École des beaux-arts in the 1940s, during which time she and a circle of artist friends headed by Paul-Émile Borduas established the movement known as "Les Automatistes." A co-signatory of the group's Refus global manifesto, she contributed a seminal essay on contemporary dance, "La Danse et l'espoir" (Dance and Hope). An accomplished painter, dancer and choreographer, she spent the years from 1945 to 1947 in New York studying modern dance under Franziska Boas, among others. Shortly after returning to Montreal, she created Danse dans la neige (Dance in the Snow) (1948), which marked a defining moment in her artistic career. In the 1960s, she turned her attention to sculpture, working notably with steel and Plexiglas. She made her first trips to Greece and Italy in the 1970s, and, as a member of the Véhicule Art artist-run centre, Sullivan experimented with performative and "immaterial" approaches associated with conceptual art. The 1980s marked a return to painting, with matierist tondos and later figurative works inspired by ancient mythology. During the second half of the 1990s, she embarked on a lengthy exploration of abstract painting, a passion she continues to pursue today.
Françoise Sullivan taught at Concordia University's Faculty of Fine Arts from 1977 to 2009. Her works have been shown in Canada, the United States, France, Italy, Belgium, Germany, Denmark and Japan. She has received the Prix Paul-Émile Borduas and the Order of Canada and was named a knight of the Order of Quebec. Retrospectives of her work have been mounted by the Musée des beaux-arts de Montréal and the Musée national des beaux-arts du Québec. In 2005, Françoise Sullivan won the Governor General's Award in the Visual and Media Arts, and in 2008, the Gershon Iskowitz Prize.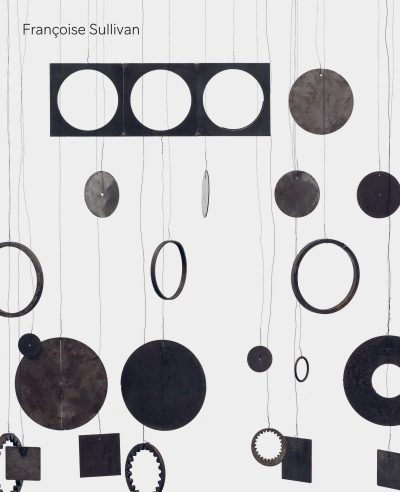 Françoise Sullivan
Mark Lanctôt with contributions from Vincent Bonin, Chantal Charbonneau, Ray Ellenwood and Noémie Solomon, 2018, 9782551262908, 288 pp 180 ill. (55 col.) 11 x 9 in softcover.
$39.95