La machine qui enseignait des airs aux oiseaux
au
Starting October 8th, the Musée d'art contemporain de Montréal will present La machine qui enseignait des airs aux oiseaux, an exhibition that brings together over thirty artists from Montréal and its surroundings.
This exhibition was assembled along an open thematic framework that stems from an interest in how language is inscribed in bodies, gestures, and materials. More specifically, we sought to explore how objects and techniques used by this "embodied language" can act as interfaces, allowing for the transmission of affects and knowledge between individuals and time periods.
These ideas evolved considerably over the course of our research. Their terms were re-oriented and sharpened by our numerous meetings with artists and a variety of other actors. Our research allowed us to carve out subsets of conversations and convergences from the field of artistic practices we were looking at. These subsets follow their own logic, which we attempt to echo and underscore in the exhibition, publication, and related public programs.
– The curators, Mark Lanctôt and François LeTourneux
---
Artists : Vikky Alexander, Trevor Baird, Thomas Bégin, Simon Belleau, Scott Benesiinaabandan, Sandeep Bhagwati, Jacques Bilodeau, Rosika Desnoyers, Mara Eagle, Surabhi Ghosh, Carla Hemlock, Kristan Horton, Sheena Hoszko, Isuma, Kelly Jazvac, Suzanne Kite, Moridja Kitenge Banza, Karen Kraven, Marlon Kroll, Nicolas Lachance, Yen-Chao Lin, Anne Low, Luanne Martineau, Manuel Mathieu, N.E. Thing Co, Jérôme Nadeau, Isabelle Pauwels, Guillaume Adjutor Provost, Walter Scott, Erin Shirreff, Eve Tagny, Samuel Walker, Nico Williams, Thea Yabut
With a film programme entitled chorus, talk through life, organised by guest curator, Ronald Rose-Antoinette, and a podcast series organised by guest curator, Daisy Desrosiers.
The exhibition is accompanied by a publication including: an essay by Krista Lynes, short texts by Nicole Brossard, Marie-Andrée Gill, Rawi Hage, Symon Henry, Joana Joachim, Michael Nardone, Madeleine Thien, Maude Veilleux, Jacob Wren, and a reader edited by Raymond Boisjoly comprised of excerpts of texts by Maya Deren, Jeanne Favret-Saada, Branden Hookway, Alfred Jarry, Catherine Malabou,  Ferdinand de Saussure and Michel Serres.
Creative-Research Project by Sandeep Bhagwati
ARE YOU OUT OF YOUR SOUND?
For a long time, Sandeep Bhagwati had been asking himself whether a sequence of sounds could be composed the way a choreographer composes a sequence of movements in space, a poet composes an arrangement of words, a novelist follows characters through a plot? Can music be staged the same way a director stages a play or a visual artist conceives an installation? In 2015, he resolved to put these questions to a practical test, and secured a three-year Insight Grant from the Social Sciences and Humanities Research Council of Canada.
Thus, from 2016 to 2019, the Ecstasies of Influence research-creation project explored inter-artistic ways of conceiving, creating and composing musical performances and productions, influenced by dialogues with and transfers from other artistic practices. The project took place in three locations: Montréal, Berlin and Pune. In each location, local musicians and local artists created their own projects through artistic collaborations with Bhagwati.
In Berlin, in December 2017, two German poets, Monika Rinck and Christian Filips, created musical pieces with the Ensemble Extrakte using ideas from poetry making, from tongue positions to recordings of a poet talking in his sleep — musical meditations on body, psyche and language.
Then, in Montréal, in December 2018, Deborah Carruthers, a conceptual artist working with natural processes, David Szanto, a conceptual food artist, and Angelique Willkie, a conceptual body artist, worked with Ensemble Extasis, six audacious Montréal musicians, to create three un-concerts: quirky and holistic presentations of music that far transcended the concert format and positioned themselves somewhere between performance art, installation and ritual.
Finally, in Pune, in August 2019, architect Rahul Ravat and choreographer Priya Joshi, both from Pune, as well as Deborah Carruthers collaborated in developing naturally dancing architectures for Indian music with the Hindustani musicians of Ensemble Sangeet Prayog.
The web-exhibition ARE YOU OUT OF YOUR SOUND? for the Musée d'art contemporain de Montréal delves into the rich documentary materials on Ecstasies of Influence. Over the duration of the exhibition, AYOOYS will host narrated and contextualized video documentations of many rehearsals and all the public presentations. It will also present a wealth of making-of materials: photos, preliminary recordings, interviews with some of the musicians and artists involved, sketches, recipes for making music and for making David Szanto's extraordinary culinary food for music. But the project will also include re-enactments of some of the most extraordinary musical experiments in public spaces around the MACM.
ARE YOU OUT OF YOUR SOUND? invites lovers of sonic expressions to go on the same journey the musicians in this project went: to rethink and refeel what they believe music is. Is it inside or outside of them? Is it a thing or a fling? Should it be beautiful or true to life? Can it change the climate? And does it need a climax?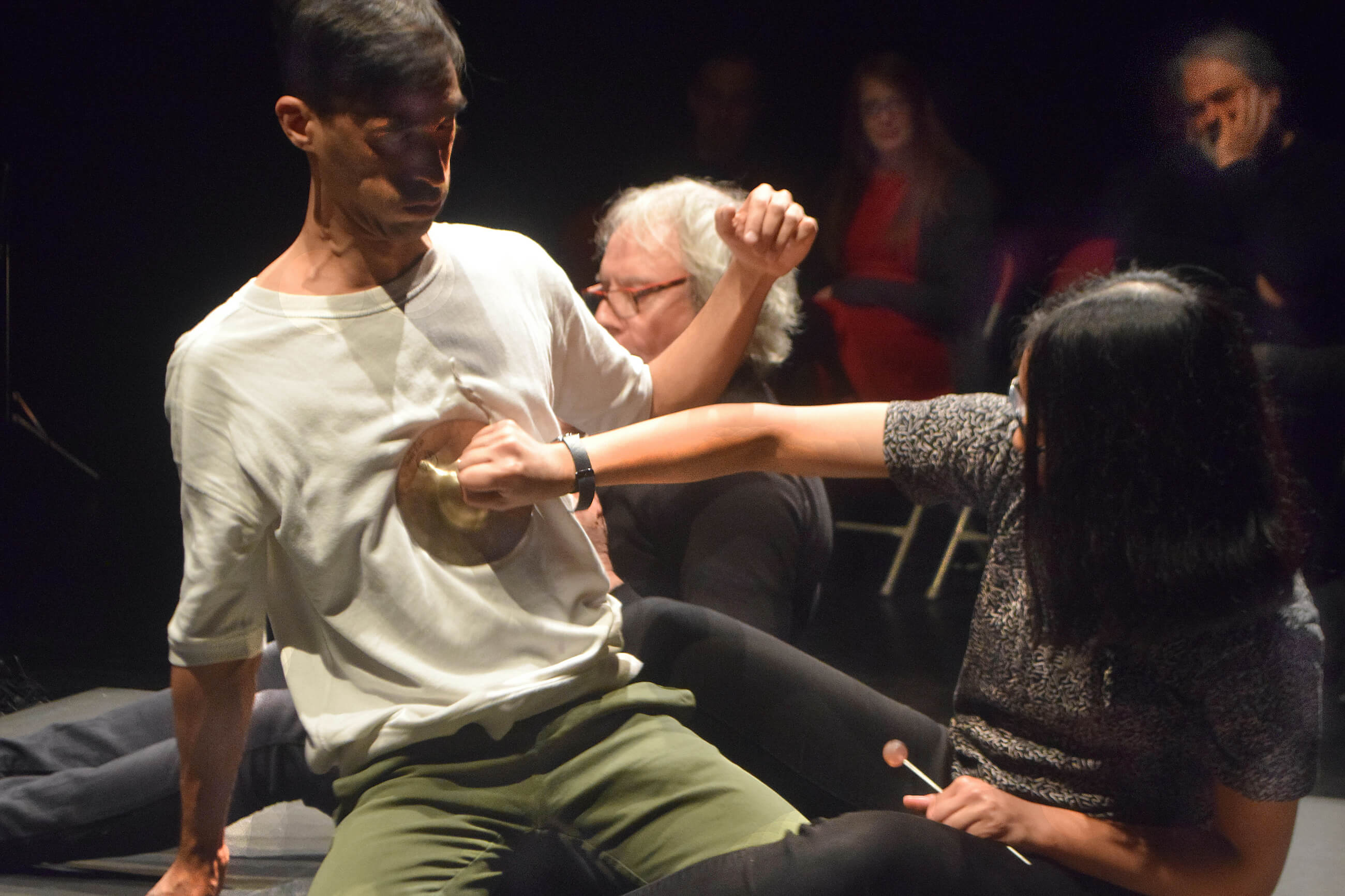 Sandeep Bhagwati is a composer, conductor, poet, academic teacher and researcher, theatre director and conceptual artist. Born in 1963 in Bombay, India, he lives a nomadic working existence between Montréal, Berlin, Zurich and Mumbai. His works are regularly performed worldwide. He has run many trans-traditional projects with Asian soloists and prominent European ensembles, and many evening-length multidisciplinary projects. He has curated and directed new music festivals in Munich, Berlin and Karlsruhe, Germany. He writes on music, cultural globalization and artistic research for radio, press, academic journals and books. A Canada Research Chair for Inter-X Art at Concordia University, Montréal, from 2006 to 2016, he also was Professor at Karlsruhe Music University; Composer-in-Residence/Fellow/Guest Professor at IRCAM, Paris; ZKM Karlsruhe, Beethoven Orchestra Bonn, Germany; IEM Graz, Austria; CalArts Los Angeles, California; Heidelberg University and University of Arts Berlin, Germany; and Tchaikovsky Conservatory Moscow, Russia. At Concordia, he directs matralab, a research/creation centre for performing arts. His current interests centre on comprovisation, trans-traditional aesthetics, gestural and sonic theatre, and situative, non-visual scores. Since 2013, he has also been the artistic co-director and conductor of Ensemble Extrakte Berlin and, in 2015, he founded the first Indian ensemble for experimental music, Sangeet Prayog, in Pune, India. His albums are published by Mode Records New York, Noland Records and Dreyer Gaido Berlin. Some of his music can be streamed at http://matralab.hexagram.ca/music/.
Marie-Annick Béliveau is a lyric mezzo-soprano who specializes in new music. She works alongside the artistic director at Chants Libres and is completing a PhD in research-creation at UQAM.
Deborah Carruthers is a Montréal-based inter-arts artist and composer of graphic scores, often collaborating with scientists and others, with a particular emphasis on environmental matters.
Felix Del Tredici is a bass trombonist specializing in the performance of contemporary and improvised music, and has been an artist-researcher at matralab for many years.
Gabriel Dharmoo is a composer, vocal performer, researcher and interdisciplinary drag artist, and a PhD candidate at Concordia University.
Ralitsa Doncheva is an artist, filmmaker and videographer at matralab. 
Elinor Frey is a leading Canadian-American cellist and researcher who specializes in early music and new music.
Catherine Henderson is a media librarian and music archivist at matralab.
Terri Hron is a recorder player, composer and multimedia artist, and also the executive director of the Canadian New Music Network.
Guy Pelletier is a flutist who plays all music styles and likes to be part of creative and unconventional artistic projects.
David Szanto is a researcher, teacher and artist who examines gastronomy and food systems through performance, ecology and design.
Angélique Willkie, a performer, dramaturge and pedagogue, is active in the fields of dance and circus, and is an assistant professor at Concordia University.
Jessica Tsang is a percussionist and researcher curator, and half of the guitar and percussion duo party of one.
Curator(s)
Mark Lanctôt and François LeTourneux