Une brèche en toute chose/A Crack in Everything
Presented by CBC/Radio-Canada, Leonard Cohen : Une brèche en toute chose/A Crack in Everything is part of the official program for Montréal's 375th anniversary celebrations. The exhibition is inspired by the world of Leonard Cohen and the great themes of his life and work. This major exhibition is the first to be entirely devoted to the imagination and legacy of this great singer/songwriter, man of letters and global icon from Montréal. 
A life's work revisited through contemporary art
A truly multidisciplinary exhibition combining visual art, virtual reality, installations, performances, music and writing, Leonard Cohen – Une brèche en toute chose / A Crack in Everything offers the public a collection of brand new work commissioned from and created by local and international artists who have been inspired by Leonard Cohen's style and recurring themes. At the same time, it is a particularly Montreal-centric exhibition that has received outstanding support from the community.
Beyond the works to be created especially for Leonard Cohen – Une brèche en toute chose / A Crack in Everything, the exhibition will also include innovative multimedia environments where Cohen's songs will be covered and performed, as well as a survey of his archival material (writings, drawings and recordings produced over the past half-century).
Six galleries are devoted to the critical celebration, loving tribute and, a year after his passing, quiet commemoration of a vast artistic achievement and inspiring life.
A world-renowned Montréal novelist, poet and singer/songwriter who inspired generations of writers, musicians and artists, Cohen is an extraordinary poet of sorrow and the human condition, giving voice to what it means to be fully alert to the complexities and desires of both body and soul.
Leonard Cohen's thinking, writing and music are a thing of beauty and despair. For decades, the novelist, poet and singer/songwriter tenaciously supplied the world with melancholy but urgent observations on the state of the human heart. With equal parts gravitas and grace, he teased out a startlingly inventive and singular language, depicting both an exalted spirituality and an earthly sexuality. He set the blunt but brilliant instrument of his famous voicea "velour foghorn" so deep and cavernous or, more recently, his raspy chant-like whispersto beautiful melodies and simple arrangements that belied a great musical intelligence. His interweaving of the sacred and the profane, of mystery and accessibility, was such a compelling combination it became seared into memory.
---
When we came up with the idea for this exhibition, we went to seek the agreement of Leonard Cohen, who was thrilled with the project and the angle we were proposing. Given his recent death, our exhibition has taken on a new meaning. It has also become a tribute to this global star. 
John Zeppetelli, Director and Chief Curator, MAC
LIST OF CONFIRMED ARTISTS FOR THIS EXHIBITION
Kara Blake

Kara Blake

(Canada)

Kara Blake is a Montréal-based filmmaker whose creative projects range from short films and music videos to live performance visuals and installation pieces. Interested in fusing fact with fiction, and past with present, Blake often works with archival materials to construct new narratives that encourage a re-examination of the world around us. Both a director and an editor with a keen attention to sound and music, Blake is dedicated to crafting engaging audiovisual experiences.

Blake's films have been shown internationally at festivals and venues including the Museum of Modern Art New York, Telluride, CPH:DOX, Bravo and the Independent Film Channel. The Delian Mode, an experimental documentary about electronic music pioneer Delia Derbyshire, had the distinction of winning both a Genie Award and the Hot Docs Award for Best Short Documentary in 2009. Blake has collaborated with a variety of artists and musicians including the Ensemble contemporain de Montréal, Peaches, The Besnard Lakes and composer Nicole Lizée. As editor and compositor, Blake has worked with partners such as the National Film Board, Moment Factory, Canadian Broadcasting Corporation and a large number of independent film and television producers.

Blake holds a Bachelor of Applied Arts degree in film production from Ryerson University in Toronto and a Master of Fine Arts degree from Concordia University in Montréal, where she continues to live and work.

See More

Candice Breitz

Candice Breitz

(South Africa/works in Germany)

Candice Breitz (born in Johannesburg) is a Berlin-based artist whose moving-image installations have been shown internationally. Throughout her career, she has explored the dynamics by means of which an individual becomes him or herself in relation to a larger community, be that the immediate community that one encounters in family, or the real and imagined communities that are shaped not only by questions of national belonging, race, gender and religion, but also by the increasingly undeniable influence of mainstream media such as television, cinema and other popular culture. Most recently, Breitz's work has focused on the conditions under which empathy is produced, reflecting on a media-saturated global culture in which strong identification with fictional characters and celebrity figures runs parallel to widespread indifference to the plight of those facing real world adversity.

Breitz holds degrees from the University of the Witwatersrand, Johannesburg, the University of Chicago and Columbia University, New York. She has participated in the Whitney Museum's Independent Studio Program and led the Palais de Tokyo's Le Pavillon residency as a visiting artist during the year 2005−2006. She has been a tenured professor at the Hochschule für Bildende Künste in Braunschweig since 2007.

Solo exhibitions of Breitz's work have been held at many international museums and galleries, including the San Francisco Museum of Modern Art; Palais de Tokyo, Paris; The Power Plant, Toronto; Louisiana Museum of Modern Art, Humlebæk; Moderna Museet, Stockholm; Castello di Rivoli, Turin; and the South African National Gallery, Cape Town.

Together with Mohau Modisakeng, Breitz represented South Africa at the 57th Venice Biennale in 2017. In the past, she has participated in many biennales, from Johannesburg (1997) to Dakar (2014). Her work has been featured at the Sundance Film Festival (New Frontier, 2009) and the Toronto International Film Festival (David Cronenberg: Transformation, 2013).

Works by Breitz have been acquired by many museums, including the Museum of Modern Art and the Solomon R. Guggenheim Museum, both in New York; Louisiana Museum of Modern Art, Humlebæk; San Francisco Museum of Modern Art; National Gallery of Canada, Ottawa; Art Gallery of Ontario, Toronto; Castello di Rivoli, Turin; and National Gallery of Victoria, Melbourne.

Click here for full video profile

See More

Daily tous les jours

Daily tous les jours

(Canada)

Daily tous les jours creates large-scale interactive installations driven by collective experiences. The design studio uses technology and storytelling to explore collaboration, the future of cities and the power of humans. Dtlj is best known for its work in public spaces, where passing crowds are invited to play a critical role in the transformation of their environment and their relationships. Their work mixes digital arts, performance and placemaking, utilizing contemporary tools that range from sensors, phones and real-time data to musical instruments, dance choreographies, food and meditation.

Their work has won numerous international recognitions including Best in Show at the IxDA Interaction Awards, the Grand Prize at the UNESCO Shenzhen Design Awards, the Knight Cities Challenge for Civic Innovation, the Fast Company Innovation by Design Award and an Americans for the Arts Public Art Network Award. They are also very active in the design and digital arts communities, giving lectures and workshops worldwide, notably at SXSW, EYEO, INST-INT, New Cities Summit, TEDx and Ars Electronica.

Daily tous les jours is based in Montréal and was co-founded by Melissa Mongiat and Mouna Andraos. Mongiat holds an MA in Narrative Environments from London Central Saint Martins, and Andraos holds an MA from ITP New York University and is an associate professor at Concordia University.

See More

Janet Cardiff et George Bures Miller

Janet Cardiff et George Bures Miller

(Canada)

Canadian artists Janet Cardiff and George Bures Miller live and work in British Columbia. They are internationally recognized for their immersive multimedia sound installations and their audio/video walks.

Cardiff and Miller have had numerous solo shows at international venues including ARoS Aarhus Art Museum; Museo Nacional Centro de Arte Reina Sofía, Madrid; The Menil Collection, Houston; Museu d'Art Contemporani de Barcelona; Hamburger Bahnhof, Berlin; Vancouver Art Gallery; and Art Gallery of Ontario, Toronto. They have participated in major group exhibitions such as the 19th Biennale of Sydney in 2014 and dOCUMENTA (13), and they represented Canada at the 2001 Venice Biennale, for which they received the Biennale's Premio Speciale and Benesse Prize. Cardiff and Miller's works are in the permanent collections of the Museum of Modern Art, New York, Tate London, Astrup Fearnley Museet, Oslo, Hirshhorn Museum and Sculpture Garden, Washington, D.C., and Louisiana Museum of Modern Art, Humlebæk.

Photo: Janet Cardiff and George Bures Miller at the Hockey Hall of Fame, circa 1996. Courtesy of the artists.

See More

Christophe Chassol

Christophe Chassol

(France)

The radically unique composer Christophe Chassol (born in Paris) started at the Conservatoire at the age of four and graduated from the Berklee College of Music in 2002.

He has since composed for film, TV, ads and contemporary art, in addition to collaborating with Phoenix, Sebastien Tellier and, most recently, Frank Ocean.

Chassol creates sonic and visual work that bears the mark of a rich and complex universe.

He strives to harmonize life, reality, the world and anything he encounters that speaks to him.

Harmonizing with real life begins with a compelling image that emits a sound: Chassol duplicates this kernel and rearranges it to form a rhythmic and visual motif, harmonizing the sounds created to produce a veritable cinematic and musical piece.

The outcome has a name: "ultrascore."

Big Sun is his newest offering, a dazzling fourth album recorded in the West Indies, and the third volume in his "Ultrascore Trilogy," which he began in New Orleans in 2011 with Nola Cherie and followed up with 2013's Indiamore, recorded in India.

Currently on a world tour, he has started his next ultrascore, expected in early 2018.

See More

Tacita Dean

Tacita Dean

(United Kingdom)

Tacita Dean is a British European artist born in Canterbury. She lives and works in Berlin and Los Angeles, where she was recently Artist in Residence at the Getty Research Institute (2014−2015). Dean's films, drawings and other works are extremely original. Her recent film portraits express something that neither painting nor photography can capture. They are purely film. And while she can appreciate the past, her art avoids any kind of academic approach. Dean's art is carried by a sense of history, time and place, light quality and the essence of the film itself. The focus of her subtle but ambitious work is the truth of the moment, film as a medium and the sensibilities of the individual.

Dean has been the recipient of numerous prizes including the sixth Benesse Prize at the 51st Venice Biennale in 2005, the Hugo Boss Prize at the Solomon R. Guggenheim Museum, New York, in 2006 and the Kurt Schwitters Prize in 2009. Exhibitions of her work have recently been held at Museo Tamayo, Mexico City (2016); Espace Louis Vuitton, Munich (2016); 12th Istanbul Biennial (2015); TIFF Bell Light Box, Toronto (2015); 19th Biennale of Sydney (2014); Statens Museum for Kunst, Copenhagen (2014); The Fabric Workshop and Museum, Philadelphia (2013); Australian Centre for Contemporary Art, Melbourne (2013); Botín Foundation, Santander (2013); dOCUMENTA (13), Kassel (2012); the New Museum, New York (2012); the Turbine Hall, Tate Modern, London (2011) and the Museum Moderner Kunst Stiftung Ludwig, Vienna (2011).

Dean's work will be presented at London's Royal Academy of Arts, National Gallery and National Portrait Gallery⎯in an unprecedented collaboration between these institutions⎯in the spring of 2018.

See More

Thomas Demand

Thomas Demand

(Germany)

German artist Thomas Demand is known for his large-scale photographs depicting spaces from mass-media images reconstructed in paper and cardboard. Through his work, he strives to overturn the notion of photography as an inevitably objective or truthful medium, exploring the gap between reality and its representation.

Demand grew up in Munich and, from 1987 to 1992, attended both the Academy of Fine Arts there and the Düsseldorf Art Academy, before receiving a Master of Fine Arts degree from Goldsmiths' College in London in 1994. He initially focused on sculpture, using photography to document his paper and cardboard reconstructions. In 1990, however, photography and sculpture traded places in his artistic process; the photograph became the artwork. He uses as models images drawn from personal memories and, more often, photographs found in the mass media.

Since his first solo exhibition at Tanit Gallery in Munich in 1992, Demand has shown his work at major museums and galleries worldwide. His solo exhibitions include shows at the Modern Art Museum of Fort Worth (2016); DHC/ART, Montréal (2013); National Gallery of Victoria, Melbourne (2012); Museum of Modern Art, Tokyo (2012); Kaldor Public Arts Project #25, Sydney (2012); Boijmans van Beuningen, Rotterdam (2010); Neue Nationalgalerie, Berlin (2009); MUMOK, Vienna (2009); Fondazione Prada, Venice (2007); Serpentine Gallery, London (2006); Museum of Modern Art, New York (2005); and a retrospective at the Kunsthaus Bregenz (2004). He represented Germany at the 26th Sao Paulo Biennale (2004). In 2017, he is part of a major show at the Fondazione Prada in Venice, together with Alexander Kluge and Anna Viebrock.

His work is represented in numerous museums and collections including the Museum of Modern Art and the Guggenheim Museum, New York, the Centre Pompidou, Paris, and the Tate Modern, London.
On several occasions, he has curated shows, including L'Image Volée at the Fondazione Prada, Milan (2016), Model Studies at the Graham Foundation, Chicago (2013), La carte d'après nature at the Nouveau Musée National de Monaco (2010) and a contribution to the 13th Venice Architecture Biennale Common Ground (2012).

He lives and works in Berlin and Los Angeles.

See More

Kota Ezawa

Kota Ezawa

(Germany)

Kota Ezawa was born in Cologne, Germany. He lives and works in Oakland, California.

His work explores the appropriation and mediation of current events and images. He translates found film, video and photographic images into drawings and animations that reduce complex imagery to its most essential, two-dimensional elements in order to debate their validity as mediators of actual historical events and personal experiences.

Ezawa's work has been shown in solo exhibitions across Canada and the United States, including SITE Santa Fe (2017); Mead Art Museum, Amherst, Massachusetts (2017); Albright-Knox Art Gallery, Buffalo, New York (2013); Vancouver Art Gallery Offsite (2012); and Hayward Gallery Project Space, London (2007). His work has also been shown in group exhibitions at major museums such as the Museum of Modern Art, New York, Art Institute of Chicago and Musée d'art moderne de la Ville de Paris. He is currently Associate Professor of Film and Fine Arts at California College of the Arts.

See More

George Fok

George Fok

(Hong Kong)

George Fok is a Hong Kongese video artist based in Montréal. Fok received his design education at Hong Kong Polytechnic, which provided him with an eclectic blend of traditional British art education and progressive Eastern philosophy. Upon his arrival in Montréal, he co-founded Epoxy Communications and established himself as a creative director capable of crossing over into various visual communication platforms, from graphic design, photography, film and video to visual effects.

His oeuvre is a mix of conceptual and commercial work, and explores the intersection of art, music and fashion. Fok's work has appeared in traditional galleries and in Hollywood films, including Across the Universe and Stranger Than Fiction. For the past decade, he has been the creative director of the Phi Centre, an arts and culture organization in Montréal. Among his frequent collaborators are musicians and fashion designers. Fok's rejection of disciplinary boundaries enables him to further examine the plastic nature of images and create new signifying possibilities.

See More

Ari Folman

Ari Folman

(Israel)

Ari Folman is an Israeli director and screenwriter. He was born in Haifa and studied at Tel Aviv University's Department of Film and Television. Folman's parents met in the Lodz ghetto in Poland and were married on August 18, 1944. They were evacuated to Auschwitz the following morning during the liquidation of the ghetto. Folman began his film career by making documentaries. Comfortably Numb, his first film, was directed with Ori Sivan in 1991, and won Israel's Ophir Award for Best Documentary, a Jerusalem Film Festival Prize and multiple international film awards. His 1996 film Saint Clara, also directed with Ori Sivan, won six Ophir Awards, including Best Director and Best Film, the Jury Prize at the Karlovy Vary Festival in 1996 and the Vienna Film Festival?? in 1997, and the People's Choice Award at the Berlin Festival 1996. He also wrote and directed the 2001 film Made in Israel, for which he won two Ophir Awards. Between 2001 and 2004, Folman wrote the screenplays for seven episodes of the Israeli television series Shabatot VeHagim. He also wrote three episodes of the television series BeTipul, which HBO later picked up and adapted for its series In Treatment. Between 2006 and 2008, Folman was the head writer on the Israeli TV series Parashat Ha-Shavua. When Folman was a nineteen-year-old infantry soldier in the Israel Defense Forces during the 1982 war in Lebanon, he witnessed the aftermath of the massacre at the Sabra and Shatila Palestinian refugee camps at the hands of Lebanese Christian Phalangist militia. His 2008 film, Waltz with Bashir, follows his attempt to regain his memories of the war through therapy and conversations with friends he served with, as well as other Israelis who were present in Beirut during the war. The animated-documentary feature, written and directed by Folman, won eighteen awards, including Ophir Awards for Best Film, Best Director and Best Screenplay, the Directors Guild of America award for Outstanding Directorial Achievement in Documentary, and a Golden Globe for Best Foreign Language Film. Waltz with Bashir was also nominated for multiple BAFTA awards, a Cannes Film Festival award and an Academy Award for Best Foreign Language Film. Folman's 2013 live action/animated feature film The Congress, starring Robin Wright, Paul Giamatti, Jon Hamm, Danny Huston and Harvey Keitel, premiered in 2013 at Cannes and won the European Film Academy award for Animated Feature Film.

Clara Furey

Clara Furey

(Canada)

A maverick creator who studied music at the Conservatoire de Paris and dance at the École de danse contemporaine de Montréal, Clara Furey is fascinated by the blending of forms, languages and codes that make up a living work. Since 2011, she has dedicated herself to choreographic creation.

Working at the crossroads between choreographic movement and performance art, Furey creates her poetry of movement around human interconnections and a hyper-awareness of sensory perceptions. In so doing, she develops a dance between matter and the absence of matter.

Focusing on transdisciplinarity, the construction of the connections between various media and the complementary nature of the senses, the performer/choreographer develops hybrid works informed by a Spartan stage landscape. These works often call into question the notion of a fourth wall. The soundtracks of these pieces are an integral part of the work, as much as the choreographic movements. They create a powerful sensory environment that is at the service of an emotional experience.

Furey co-created Hello… How Are You? with Céline Bonnier, Chutes Incandescentes with Benoît Lachambre and Night Will Come, with Michikazu Matsune at the Ethnological Museum of Vienna. These were followed, in 2015, by Untied Tales (The vanished power of the usual reign), co-created with Peter Jasko.

In a society dominated by images and virtual communications, promoting a frenzied form of individualism, Furey incorporates a political and social dimension in her performance work. For her, the living performance must evolve toward experiences that involve the body, emotions and sensory perceptions of the audience. Viewing art as a means to bring people together around a spirituality without dogmas, the choreographer seeks, through her pieces, to create connections between media, human beings and the senses.

See More

Jenny Holzer

Jenny Holzer

(United States)

For more than thirty-five years, Jenny Holzer has presented her astringent ideas, arguments and sorrows in public places and international exhibitions, including 7 World Trade Center, the Venice Biennale, the Guggenheim Museums in New York and Bilbao, and the Whitney Museum of American Art. Her medium, whether formulated as a T-shirt, a plaque or an LED sign, is writing, and the public dimension is integral to the delivery of her work.

Starting in the 1970s with the New York City posters, and continuing through her recent light projections on landscape and architecture, her practice has rivalled ignorance and violence with humour, kindness and courage. Holzer received the Golden Lion at the Venice Biennale in 1990, the World Economic Forum's Crystal Award in 1996 and the Barnard Medal of Distinction in 2011. She holds honorary degrees from Williams College, the Rhode Island School of Design, The New School and Smith College. She lives and works in New York.

See More

Jon Rafman

Jon Rafman

(Canada)

Jon Rafman (born in Montréal) is an artist based in Montréal. His work investigates the implications of technology on our social and subjective conditions. Exploring the rich vocabulary of Internet subcultures and virtual worlds, Rafman produces works that critically engage with contemporary reality. His work manifests a cultural moment fuelled by an ambivalent relationship toward technology's seemingly infinite potential.

He has had solo exhibitions at the Musée d'art contemporain de Montréal (2015); Zabludowicz Collection, London (2015); Westfälischer Kunstverein, Munster (2016); and Stedelijk Museum, Amsterdam (2016). His works have been featured in prominent international group exhibitions, including The Future of Memory, Kunsthalle Wien, Vienna (2015); Speculations on Anonymous Materials, Fridericianum, Kassel (2015); Biennale de Lyon (2015); Berlin Biennale 9 (2016); and Manifesta 11 (2016).

Photo: Dan Wilton

See More

Michael Rakowitz

Michael Rakowitz

(United States)

Michael Rakowitz's multidisciplinary practice engages the senses as a means of sparking discourse around pressing political, social and historical issues. An American artist of Iraqi-Jewish origin, Rakowitz creates conceptual art that is known for establishing unexpected connections. In doing so, he forges entirely new and composite narratives that challenge and engage the audience in a vibrant revival of the past.

Rakowitz is Professor of Art Theory and Practice at Northwestern University and has shown his work in venues worldwide. Over the years, he has been honoured with many awards for his work, which also features in major private and public collections around the world.

See More

Zach Richter

Zach Richter

(United States)

Zach Richter is a filmmaker and creative director living in Los Angeles. His work is known for combining innovative technology with experiential storytelling.

Richter is currently the creative director of Within, a technology and media company whose goal is to
explore and expand the potential of story-based virtual reality.

Richter's acclaimed VR projects include Hallelujah, Under Neon Lights (with The Chemical Brothers), The Possible series (with David Gelb) and The New York Times documentary Walking New York (with JR and Chris Milk).

His work has been showcased at the Cannes Film Festival, Tribeca Film Festival, Sundance and SXSW, and his projects have won over fifty individual awards including Cannes Lions, One Show, Webby Awards, FWA and Clio.

See More

Sharon Robinson

Sharon Robinson

(United States)

Sharon Robinson is a Grammy-winning songwriter, a recording artist and a producer. She has written songs for numerous artists, such as Patti LaBelle, Diana Ross, Roberta Flack and Aaron Neville. Robinson is best known for her work with Leonard Cohen, having toured extensively with him as a singer and having co-written some of his best-known songs, including "Everybody Knows," "Waiting for the Miracle," "Boogie Street" and "In My Secret Life." She produced and co-wrote his album Ten New Songs, named by Rolling Stone as one of the best albums of the decade. Robinson has released two critically acclaimed albums of her own, and has toured in the US, Europe and UK. She is also the author of On Tour with Leonard Cohen – Photographs by Sharon Robinson (powerHouse books). She is currently working on her third album and plans to tour again in 2018.

See More

Carlos and Jason Sanchez

Carlos and Jason Sanchez

(Canada)

Carlos and Jason Sanchez are a team of artists living and working in Montréal. Their photographs are eerie tableaus that read like broken narratives; they are lush and complex scenes that explore psychological landscapes. Leaving the viewer with the chance to unlock the hidden storyline, these Montréal-based brothers create large-scale photographic prints that are cinematic in scope and compelling in content. Functioning as directors, they stage every photograph meticulously, adding to the intriguing narrative and sense of mystery that surrounds their stunning photographs. They have also created installation projects that have been exhibited in Canada and the United States. The brothers have received grants from the Conseil des arts et des lettres du Québec, Canada Council for the Arts and Canadian Department of Foreign Affairs and International Trade. They exhibit their art internationally and have had solo exhibitions in cities such as Montréal, Toronto, New York, Los Angeles, San Francisco, Houston and, in Europe, Brussels, Strasbourg, Madrid and Amsterdam. Their work is included in many public and private collections, at the Montreal Museum of Fine Arts; National Gallery of Canada, Ottawa; Musée d'art contemporain de Montréal; Foam Fotografiemuseum, Amsterdam; Martin Z. Margulies Collection, Miami; Santa Barbara Museum of Art; Musée national des beaux-arts du Québec; Gemeentemuseum Helmonds, Netherlands; Museum of Fine Arts, Houston; J. Paul Getty Museum, Los Angeles; and San Francisco Museum of Modern Art, amongst others.

In 2016 the brothers directed their first feature film, A Worthy Companion, which they also wrote. It was produced by micro_scope films (Incendies, Monsieur Lazhar, Tu Dors Nicole).

They are also writing and will be directing their second feature film, The Last Weekend, which is being produced by The Film Farm. Production is slated for 2018.

See More

Taryn Simon

Taryn Simon

(United States)

Taryn Simon is a multidisciplinary artist working in photography, text, sculpture and performance. Guided by an interest in systems of categorization and classification, her practice involves extensive research into the power and structure of secrecy and the precarious nature of survival. Simon's works have been the subject of exhibitions at the Louisiana Museum of Modern Art, Humlebæk (2016−2017); The Albertinum, Dresden (2016); Galerie Rudolfinum, Prague (2016); Garage Museum of Contemporary Art, Moscow (2016); Jeu de Paume, Paris (2015); Ullens Center for Contemporary Art, Beijing (2013); Museum of Modern Art, New York (2012); Tate Modern, London (2011); Neue Nationalgalerie, Berlin (2011); and Whitney Museum of American Art, New York (2007).

Permanent collections include the Metropolitan Museum of Art, New York; Tate Modern, London; Guggenheim Museum, New York; Centre Georges Pompidou, Paris; and Los Angeles County Museum of Art. Her work was included in the 56th Venice Biennale (2015). Simon's installation, An Occupation of Loss (2016), co-commissioned by the Park Avenue Armory and Artangel, premiered in New York in 2016. Simon is a graduate of Brown University and a Guggenheim Fellow. She lives and works in New York.

See More
MUSICIANS PARTICIPATING IN THE INSTALLATION LISTENING TO LEONARD
Ariane Moffatt

Ariane Moffatt

(Canada)

In 2002, a down-to-earth, deeply sensitive album tugged on the heartstrings of Quebecers. It was, of course, Aquanaute, the debut album of a young Ariane Moffatt, she of the expressive pen and beautiful chiaroscuro voice. The artist lost no time experimenting with new sound styles, leading to release of the little gem Le coeur dans la tête (2005), and then the critically acclaimed Tous les sens (2008).

There followed the bilingual album MA (2012) and the dreamy pop album 22h22 (2015), which offered a glimpse into her world and new role as a mom. Finally, 15 years after the release of her first album, Ariane Moffatt made something of a return to her roots with Le petit spectacle à la Chapelle, gathering a few instruments around her to play some of her most popular songs in an intimate, minimalist and cozy setting.

Since the start of her illustrious career, Ariane Moffatt's name has become inextricably linked with contemporary Francophone music. An evocative songwriter, a versatile musician, an activist and a full-time mother, Ariane Moffatt is one of the most present, creative, and appreciated figures in Quebec's cultural landscape.

See More

Aurora
Basia Bulat

Basia Bulat

(Canada)

With an electrifying voice and lyrics like silver arrowheads, Basia Bulat has become one of Canada's most conspicuous talents. Since releasing her debut in 2007, Bulat has shared a stage with artists including Arcade Fire, The National, Nick Cave, Daniel Lanois, St Vincent, Sufjan Stevens, Beirut, Destroyer, Tune-Yards, Sondre Lerche, The Tallest Man on Earth, The Head and the Heart, Owen Pallett, Andrew Bird and Devotchka. She often appears solo in gigantic halls, winning over crowds with an autoharp or charango, stomping feet and two mighty lungs. But her massive talent has also been recognized at scale: her songs have been adapted for major performances with symphony orchestras, and she's been tapped for prestigious tributes to Leonard Cohen and The Band.

Bulat was born in Toronto and raised by Polish immigrant parents. She grew up listening to her mother's piano students and to Sam Cooke and Stax on the oldies station, later falling in love with Odetta, Stevie Nicks, Sandy Denny and Abner Jay. Although she emerged as part of Ontario's indie folk scene, befriending members of Ohbijou, Timber Timbre and Great Lake Swimmers, her first three records were recorded in Montreal. The first two, 2007's Oh, My Darling and 2010's Heart of My Own, were produced by Howard Bilerman, an engineer better known at the time for noisy punk-rock albums, while 2013's Juno- and Polaris-nominated Tall Tall Shadow was produced by Mark Lawson (The Unicorns, Akron/Family) and Arcade Fire's Tim Kingsbury. Basia released her 4th album, Good Advice, produced by Jim James (My Morning Jacket), in 2016.

She has lived in Montreal since 2014.

See More

Brad Barr

Brad Barr

(United States)

Brad Barr is a multi-instrumentalist, producer, and founding member of The Barr Brothers. He was born in Providence, RI and lives in Montreal, QC. With The Barr Brothers, he has received several ADISQ awards (including Producer of the Year and Live Show of the Year), was nominated for a JUNO Award, appeared twice on The Late Show with David Letterman, and toured the world extensively. The Barr Brothers have released three full-length albums and one EP. Brad Barr is known in equal measure as a songwriter/composer and a melodically lyrical improviser.

Chilly Gonzales

Chilly Gonzales

(Canada)

Chilly Gonzales, the Grammy-winning Canadian pianist and entertainer currently living in Europe, is known as much for the intimate piano touch of best-selling albums Solo Piano I and Solo Piano II as for his showmanship and compositions for award-winning stars. "Gonzo," as he is known to close collaborators, aspires to be a man of his time, approaching the piano with classical and jazz training but with the attitude of a rapper.

Chilly Gonzales holds the Guinness World Record for the longest solo concert, at over 27 hours. He performs and writes songs with Jarvis Cocker, Feist and Drake, among others. With "Never Stop," Chilly Gonzales composed a global hit for the inaugural Apple iPad 2 campaign. In 2014, he won a Grammy for his collaboration on Daft Punk's Best Album of the Year and composed the best-selling book of easy piano pieces Re-Introduction Etudes. With his most recent album Chambers, Chilly Gonzales devoted himself to finding a modern take on chamber music.

See More

Jarvis Cocker

Jarvis Cocker

(United Kingdom)

Jarvis Cocker is a short-sighted musician and broadcaster who was born in the north of England in the 20th century. He was lead singer with Pulp for 34 years. He has also released two solo albums. Mother, Brother, Lover, his collection of song lyrics, was published by Faber in 2011. Since 2009, he has presented the BBC Radio 6 Music show "Jarvis Cocker's Sunday Service," as well as the award-winning BBC Radio 4 documentary series "Wireless Nights."  He has honorary doctorates from both Sheffield Hallam University and Central Saint Martin's School of Art (which he attended from 1988-91). His latest musical project is Room 29, a song cycle written in collaboration with the Canadian pianist Chilly Gonzales which they will be presenting at this year's Edinburgh Festival. He lives in Paris and London.

See More

The Kaiser Quartett

The Kaiser Quartett

Kaiser Quartett is a contemporary string quartet, founded 2004 in Hamburg, Germany initially under the name Strings DeLuxe. The founding members, violinists Adam Zolynski and Jansen Folkers and cellist Martin Bentz were joined by Ingmar Süberkrüb on the viola in 2012. The quartet first came together to record music for the animated children series "Little Amadeus" under the musical direction of Martin Bentz. Following its broadcast on German children's channel KiKa and in over 60 countries worldwide, in 2006 "Little Amadeus" won a prestigious Klassic Echo award. For that production, the quartet developed their own unique style, characterized by a flexible string sound that has the rare ability to satisfy both the need for delicacy and the fuller sound often required for film scores or the recordings and concerts of musicians who push the boundaries of traditional classical music.

Since then, Kaiser Quartett is a sought after ensemble for studio productions and live concerts by artists from a wide variety of musical genres and can be heard on numerous Gold and Platinum albums. In 2011 the quartet began their collaboration with pianist and Grammy award winner Chilly Gonzales, playing at concerts in Hamburg and Berlin for the release of the pianist's "The Unspeakable Chilly Gonzales" album that combines orchestra and rap. There followed a series of concerts at the Philharmonies of Berlin and Munich, the Salle Pleyel in Paris and the now infamous annual New Year's concert at Philharmonie Cologne.

In 2014 the quartet collaborated with Chilly Gonzales in his musical adaptation of Hans Christian Andersen's "The Shadow", which won an adaptation award given each year by the author's heirs and with Canadian artist Socalled, also bringing his musical "The Season" to the Kampnagel Summerfestival.

In 2015 release of Chambers, an album recorded with Chilly Gonzales, produced by Renaud Letang (Manu Chao, Feist) and featuring Kaiser Quartett that re-imagines Romantic-era chamber music as today's addictive pop, with the attitude of a rapper. A year long world tour in support of Chambers, was the opportunity to see the Kaiser Quartett live in the world's most prestigious venues in Europe and the United Kingdom, with stops in Canada and the United States.

Recently the quartet collaborated with artists like "room29" (Chilly Gonzales & Jarvis Cocker, release DEUTSCHE GRAMMOPHON), Boys Noize, Daniel Hope (release DEUTSCHE GRAMMOPHON), Boy, Gregory Porter (Elbjazz 2017) and is working on their first solo project.

See More

Dear Criminals

Dear Criminals

(Canada)

Dear Criminals is Charles Lavoie, Vincent Legault and Frannie Holder's side project. Having expressed their will to play together for years, they finally decided to unite efforts in this project where Charles' intense and strong vocals and Frannie's vulnerable and fragile voice complement each other in a very unique and touching way. This vocal mixture is blended in a textured soundscape created by Vincent's arrangements and wisely chosen instrumentation, creating a musical tone deeply inspired by James Blake, Timber Timbre and Elysian Fields.

See More

Douglas Dare

Douglas Dare

(Royaume-Uni)

Douglas Dare is a London-based singer-songwriter, originally from the coastal town of Bridport, South West England.

Douglas released his first EP 'Seven Hours' in September 2013 on the Erased Tapes label. It was received to much applause, with Mary Anne Hobbs describing the EP as, "very strange and wonderful", and Drowned In Sound announcing him as "a bright new talent". After an extensive European tour with fellow Erased Tapes artist, Ólafur Arnalds, Douglas began recording his debut album 'Whelm' with his drummer/producer Fabian Prynn, before embarking on his first North American tour with label mate Nils Frahm in early 2014.

His live sound combines acoustic instrumentation including piano and percussion with glitchy electronic elements. Inspired by the likes of Portishead, Elliot Smith and James Blake, Douglas combines a rich and haunting vocal with lyrics crafted from his own poems and short prose.

Early reviews of his debut album champion it's originality with The Quietus quoted as saying, "it's bittersweet, raw and honest..." and The Guardian calling it, "distinctive and strikingly new".

See More

Feist

Feist

(Canada)

In 2004, Feist made her U.S. debut with Let It Die, which featured "Mushaboom." The album won the Juno Award for Best Alternative Rock Album and Best New Artist, and garnered major critical acclaim. Her 2007 follow-up, The Reminder, debuted in the Top 20 in the U.S. and was hailed by The Village Voice as a "great batch of simple, precisely arranged love songs—expertly produced, delectably sung," with "1234" boosting the album's sales to more than a million units internationally. Also including lead single "My Moon My Man," The Reminder earned Feist the 2007 Shortlist Music Prize, making her only the second woman to ever win the award.

After a several-year hiatus—during which she co-created Look at What the Light Did Now, a documentary about the making of The Reminder and her subsequent tour—Feist returned with Metals in 2011. Metals was her highest-charting album, debuting at #9 on Billboard, and was named Album of the Year by The New York Times as well as winning the Polaris Prize and four more Juno Awards. 

To date, Feist's music has sold over 3 million units worldwide and amassed more than 500 million streams. She's also appeared on Saturday Night Live, sold out the Hollywood Bowl, and boasts the second-most-watched video in Sesame Street history.

Half Moon Run

Half Moon Run

(Canada)

Honesty is the fabric of all our interpersonal relationships. It's the levelling light that removes us from concealment and obscurity. For Half Moon Run, it's been crucial to every step they've taken together. They never laboured under the notion that they would be successful musicians in a touring band. Nevertheless, when they formed in Montreal in 2009, multi-instrumentalists Devon Portielje, Conner Molander and Dylan Phillips abandoned every backup plan because they weren't prepared to sacrifice their uncommon chemistry. Instinct and faith led them to create their astonishingly accomplished debut album Dark Eyes, released in 2012.

Its follow-up, Sun Leads Me On, is the process of coming into being in the quest for beauty and honesty. For the three founding members—and for fellow multi-instrumentalist Isaac Symonds, who joined the band during the early touring for Dark Eyes—it materialised after months of creative frustration. After two years of relentless gigging, they got back to Montreal in late 2014 only to realise they were "oversaturated with each other and the band," says Isaac. It was only through brute force and determination that they ultimately overcame the mental challenge of effectively starting over.

"Sun Leads Me On came from a place that felt a little bit like being underwater," says Dylan. "We kept powering through because ultimately we knew it was worth it. We had this beautiful thing, this wonderful chance, but we were also working our way through a lot of darkness, losing lots of friends, struggles at home, losing our sense of home, trying to let the music guide us but having trouble even finding that. There was a lot of strife in it all, but at the same time the sun just kept pulling us forward, and we just kept powering through and trying to find beauty in what we do."

The sun literally lead them to California. One night, on little more than a whim, they packed up the jam space and headed south. There they lit upon the mellowed sound of Sun Leads Me On, a sound which Devon finds to be a truer musical representation than its predecessor. "I think it's a lot more honest," he admits. "We went down to California and we were surfing every day. A lot of the tunes we were writing there just came out. Dark Eyes took us over seven months to record and we went through two or three recordings of each song, so the vibe got a little lost from what it initially was."

Sun Leads Me On eschews the alt-folk melancholia of its predecessor in favour of a collective voyage of personal self-discovery. From the quaint downtempo cooing of "Warmest Regards" to the dark, danceable synths of "Trust" via the Bob Dylan-esque pluckiness of "Devil May Care,", it's a more diverse, spacious and balanced album. It's Half Moon Run rediscovering their connection to each other through music. Reparation figures heavily among its recurring themes, as does agency: "what a perfect day to take what you can get, to live without regret," sings Devon, during the wrought and aggressive strains of "I Can't Figure Out What's Going On.". It's a singular feeling that's best encapsulated in the breathy and heart-stopping crescendo of the title track. What starts as a personal journey expressed in Devon's lyricism is reaffirmed by the shared experience of his bandmates as they pile on magnetising harmonies and ensemble arrangements.

The association of Sun Leads Me On with the idea of life as a constant instinctual movement towards the sun hits upon a principle that has guided the band since the very early days. Namely, the sense that there is a lucidity that can be found in life through a common goal and through honesty: honesty to yourself as much as with others.

It's fitting that the album's title should have been proposed by Devon, who says he didn't necessarily consider a career in music from the very beginning, but was drawn on by an innate belief in Half Moon Run as something unique and illuminating in his life. The band's history is littered with moments where everything could just as easily have faded into obscurity. Their first demo came about after a friend of the band, who was enrolled in a music production course, had to bring a group into the studio to record as part of a class assignment. Despite being of two minds about it, they went in and laid down an early version of "Full Circle.". The song brought them to the attention of Indica Records, whicho offered a deal. After consulting with a lawyer who advised them not to sign it, they walked straight over to the label's offices and signed it anyway.

Around that time, Conner and Devon were also roommates, writing music and returning empty bottles to the store for change. As they were doing the rounds on the way to the store one day, Conner told Devon he was considering going home to British Columbia to train as a forest firefighter to pay off his seemingly insurmountable student debt. Devon appealed his decision on the grounds that such a big break in the band had the potential to wipe the slate clean. It was a moment of clarity for Conner, who changed his mind before they even got to the store.

Like the perpetual gaze of the sun, Half Moon Run is an ever-present force in the band's lives, even when they aren't writing, recording or touring. It's a sentiment that all of them shared in the interim between Dark Eyes and Sun Leads Me On. This new album is the sound of a band with less to prove and more to say. From the sweeping arpeggios and grand harmonising of lead single "Turn Your Love" to the sophisticated new-w wave strutting of "Consider Yourself," it's a diverse body of work. At the heart of "Everybody Wants" is the deeply human paradox of yearning for normality and belonging while trying to carve out a unique identity. 

Conner asserts that all origination in the song- writing process was instinct rather than intellect: "When you're in those initial stages, it's mostly instinctive as you're bouncing things off each other. It speaks to a deep part of yourself. It's connecting with your human nature, tapping in to a part of your being that you don't necessarily have access to intellectually, so when there's a creative stream among people who are all doing it at the same time you can get something that sounds really unique, and it can communicate in more ways than you can on your own. Every so often there are moments when you feel meditative, like you're transcendentally riding a wavelength." 

There's no agenda to Sun Leads Me On. Like its predecessor, it's an album that doesn't necessarily offer obvious singles because it's not premeditated. Dark Eyes was circumscribed by a powerful awareness of the melancholy and hardship of early adulthood. It manifested itself as a highly lyrical alt-folk album, at times as bleak as Neil Young's Harvest, at times as joyous as Simon and Garfunkel's Bridge Over Troubled Water. By contrast, Sun Leads Me On is whimsical, strange, more personal but conversely more relatable. It's a pop album, but one that is fed by the esoteric musical literacy of its creators. Devon and Isaac listened to ambient music almost daily. For Dylan and Conner it was classical music. It's all manifested in the reserve, space and pace of the record. Half Moon Run aren't afraid to get off the beaten track so long as they remain guided by beauty. The beatific Arcadian piping of opener "Warmest Regards" announces this album, the brief classical- sounding arrangements of "Throes" mark an interlude, while the dark lyrical world of "Trust" bounds onto the dance floor propelled by some pulsating synths. These are the moments people will remember on this record, and these are the moments you won't find on Dark Eyes. Perhaps it's telling that Dark Eyes was focused on exploring darkness. They were really still teenagers back then, trying to find their tone, trying to find truth and beauty in what they do. They didn't just succeed, they created a precedent for what beauty sounds like for them as a collective. On Sun Leads Me On, they've found what they're looking for: liberation of ideas as they delve deeper into music as a source of lucidity. "I've totally come to peace with what Sun Leads Me On is and I'm completely happy with it," says Isaac. He may have said it retrospectively, but there's a sense they've always been at peace with the record they were making. Despite the fraught initial stages of Sun Leads Me On, it's clear that whatever guided them on to its fruition has always been there, shining, ready to guide them should they determine to break out of the darkness. Perhaps the old cliché about difficult second albums is true for a lot of bands, but then perhaps the creative forces driving most second albums are unnatural, external and frustrating. Half Moon Run don't feel pressured by anyone else's standards of them, only their own. 

Julia Holter

Julia Holter

(United States)

Leif Vollebekk

Leif Vollebekk

(Canada)

Li'l Andy

Li'l Andy

(Canada)

The Pop Montreal Festival has called Li'l Andy "Montreal's best country songwriter today." He is lead vocalist, musical director and bandleader of "5 Concerts / 5 Albums," the MAC's companion concert series to the exhibition Leonard Cohen: A Crack in Everything. His fifth full-length album, All the Love Songs Lied to Us, will be released in the fall of 2018.

See More

Joe Grass

Joe Grass

(Canada)

Joseph Baron Grass grew up in small town New Brunny, became a virtuosic guitar player by age 12 and joined a traveling road show as a young teenager. He then learned how to play steel and wrote these songs and moved to Montreal and quietly changes the world everywhere he goes.

See More

Little Scream

Little Scream

(United States)

Laurel Sprengelmeyer is a singer, songwriter, multi-instrumentalist and visual artist best known by her stage name, Little Scream. Her first album, The Golden Record (2011), received 4.5 stars and an "Album Pick" rating on AllMusic, and an 8.1 on Pitchfork, which considered it "a stellar debut...[and] a perfectly mixed bag of graceful folk, coiled pop, and expansive art rock." NPR dubbed it "an absolutely captivating record," including it on their list of Best Albums of 2011, and The New York Times evoked its "hints of the divine," naming Little Scream one of the best new acts to follow at SXSW. Her second album, Cult Following (2016), featured guests including Mary Margaret O'Hara, Sufjan Stevens, and Sharon Van Etten. It received a band of the week nod in The Guardian, which called it "a quirky, affecting, richly detailed album that deserves more than its title." It was included in best-of-2016 lists by The Globe and Mail and Bust Magazine, which gave it a 5-star rating.

Little Scream has appeared as a guest vocalist on recordings by The National, The Barr Brothers, Saltland, and Michael Feuerstack, and on two compilations for the HIV organization Red Hot. She is currently working on her third record, Speed Queen, a chapbook of life on the road called Completely Humourless Tales and Sketches by Little Scream, and a bunch of really sweet oil paintings.

See More

Lou Doillon

Lou Doillon

(France)

In 2012, Lou Doillon revealed new facets of her talent.

Following a career on theatre stages and independent film sets, and in front of the greatest photographers' cameras, Lou Doillon defined and refined her artistry further with her first LP album, Places, whose songs she composed carefully at home, on her acoustic guitar.

Produced by Etienne Daho, Places was one of the biggest hits of 2012, both critically and commercially, and was unanimously celebrated for its originality. The album achieved double platinum status in France and sold more than 300,000 copies worldwide. The album release tour took Lou from New York to Berlin, from Rennes' Transmusicales Festival to Belfort's Eurockéennes. She subsequently won Best Female Artist of the Year at France's Victoires de la Musique awards.

On Places, Etienne Daho had helped Lou transcend her acoustic compositions; for her new tracks, she needed another artisan to electrify them and draw out exactly what she had in mind: a heavy blues-folk sound that was cinematographic, deep and luminous all at the same time.

Lou Doillon found this sound working closely with the artist Taylor Kirk, aka Timber Timbre. Lou and Taylor secluded themselves in Montreal recording studio Hotel2Tango and co-produced 12 new tracks for her album Lay Low, released in October 2015

See More

Mélanie De Biasio

Mélanie De Biasio

(Belgium)

De Biasio's warm, dark, and sultry voice blends the rhythmic incantatory feeling of Nina Simone with shades of Sade and even echoes of the Velvet Underground. Low in volume and high in seductive impact, it's when the tempo crawls and forms are distended that she generates her most powerfully absorbing atmospheres. (D.Wade)

See More

Moby

Moby

(United States)

Moby has been making music since he was 9 years old. He grew up playing classical music but after college became a fixture in the late 80's New York house and hip-hop scenes. He released his first single, "Go," in 1991 (ranked by Rolling Stone magazine as one of the best records of all time) and has been making albums ever since. His own records have sold over 20,000,000 copies worldwide, and he's also produced and remixed scores of other artists.

Moby works closely with a variety of charities, including the Humane Society, Mercy for Animals, and the Institute for Music and Neurologic Function. In 2007, he launched 'mobygratis,' which provides free music for independent filmmakers. He owns and runs Little Pine, an organic vegan restaurant in Silver Lake, CA, donating 100% of its proceeds to animal welfare organizations.

Photo: Melissa Danis

See More

The National

The National

(United States)

Sufjan Stevens

Sufjan Stevens

(United States)

Socalled

Socalled

(Canada)

Josh "Socalled" Dolgin is a pianist, producer, composer, arranger, rapper, singer, journalist, photographer, filmmaker, magician, cartoonist and puppet maker based in Montreal, Quebec. He has lectured and led master classes in music festivals on every continent, from Moscow to Paris, from London to LA, and from Krakow to San Francisco. With five solo albums to his name, he has performed all over the world for more than 10 years. His list of collaborators crosses generational, social, cultural and religious boundaries and includes the likes of Chilly Gonzales, Fred Wesley, Boban Markovic, Mighty Sparrow, Lhasa, Roxanne Shante, Irving Fields, Killah Priest, Matisyahu, Theodore Bikel, Enrico Macias, Derrick Carter… Socalled is always busy with projects, so much so that he was the subject of The Socalled Movie, a 2010 feature documentary produced by the National Film Board of Canada.

In 2003, his collaborative album HiphopKhasene with British violinist Sophie Solomon won a German Record Critics' Award (Preis der deutschen Schallplattenkritik). In 2005, he released an EP based on the Passover service, The Socalled Seder, which he produced in his apartment and sold through the mail in a world before the Internet, with almost 1,000 mail-orders! It was hailed as one of the greatest new Jewish Music records. He started to work with renowned clarinetist David Krakauer, touring as a special guest with his Klezmer Madness band, which led to an offer from French jazz label Label Bleu to record his first proper solo album. Featuring about 40 guests from all walks of musical life, Ghettoblaster featured the breakout hits "The Good Old Days" and "You Are Never Alone."

In 2011, Socalled came back with Sleepover, featuring an eclectic mix of guest musicians, and in 2013 he released the collection of songs he composed for The Season, a puppet indie musical fable for the 21st century he also wrote and directed. Finally, in 2015, he returned with another collection of songs, Peoplewatching, an offering of infectiously fun, passionate and timeless mini-odes for the booty pleasure of all twenty-teens, reaffirming the splendor of peoplewatching in an attempt to understand each other and form a collectivity in a festive fullness.

See More
Clara Furey: When Even The
When Even The is a cycle of performances choreographed and performed by Clara Furey and inspired by the eponymous poem by Leonard Cohen. In this ninety-minute work, which will be performed for ninety days in the presence of the Marc Quinn sculpture Coaxial Planck Density, Furey engages in an existential reflection on memory, the passage of time and death—all major themes in Cohen's work.
Daily tous les jours
I Heard There Was a Secret Chord
I Heard There Was a Secret Chord is a participatory humming experience that reveals an invisible vibration uniting people around the world currently listening to Leonard Cohen's "Hallelujah." Real-time user data representing these listeners is transformed into a virtual choir of humming voices that participants can hum along with in order to feel a collective resonance. The project comprises a web experience and a room in the exhibition.
Jenny Holzer: For Leonard Cohen November 7 to November 11, 2017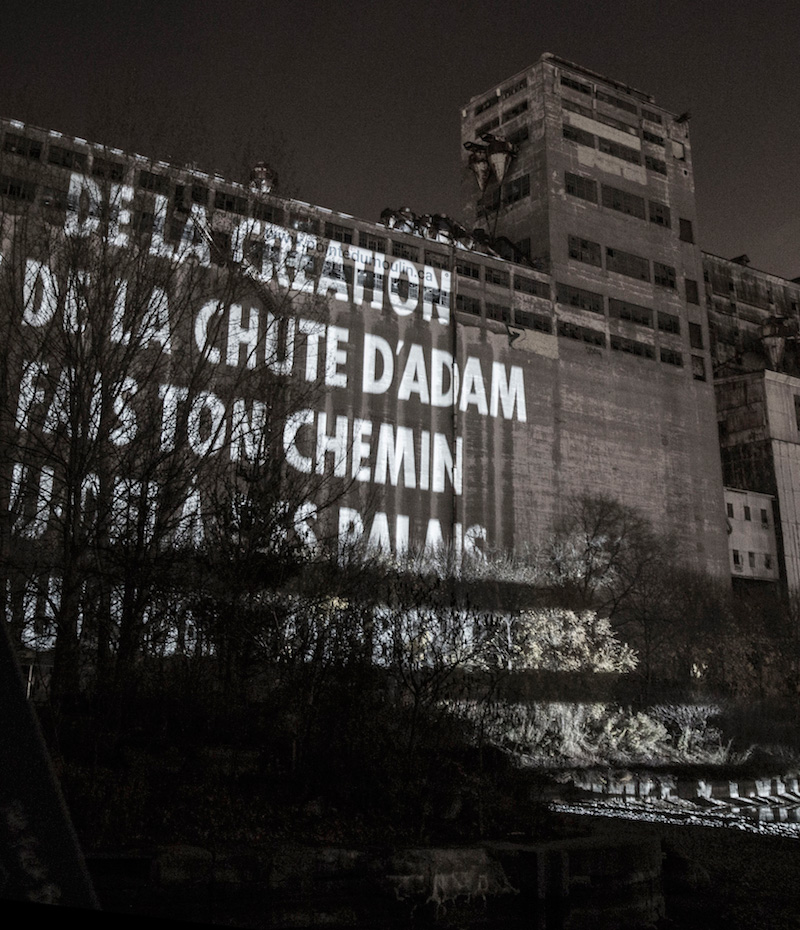 As part of the exhibition Leonard Cohen – Une brèche en toute chose / A Crack in Everything, the MAC will light up Silo no 5.
For Leonard Cohen (Pour Leonard Cohen) is a series of large-scale light projections on one of Montréal's most iconic architectural structures. The installation features phrases
from Cohen's poems and songs, projected in both French and English. This unique and ephemeral work will be visible for five nights only, starting on November 7, the first anniversary of Cohen's death, and going until November 11.
Montrealers are invited to commemorate and celebrate Leonard Cohen at this free event.
Jenny Holzer is an American artist. She has projected light onto buildings and landscapes since the early 1990s, creating large-scale, text-based installations, which seek to illuminate and reveal.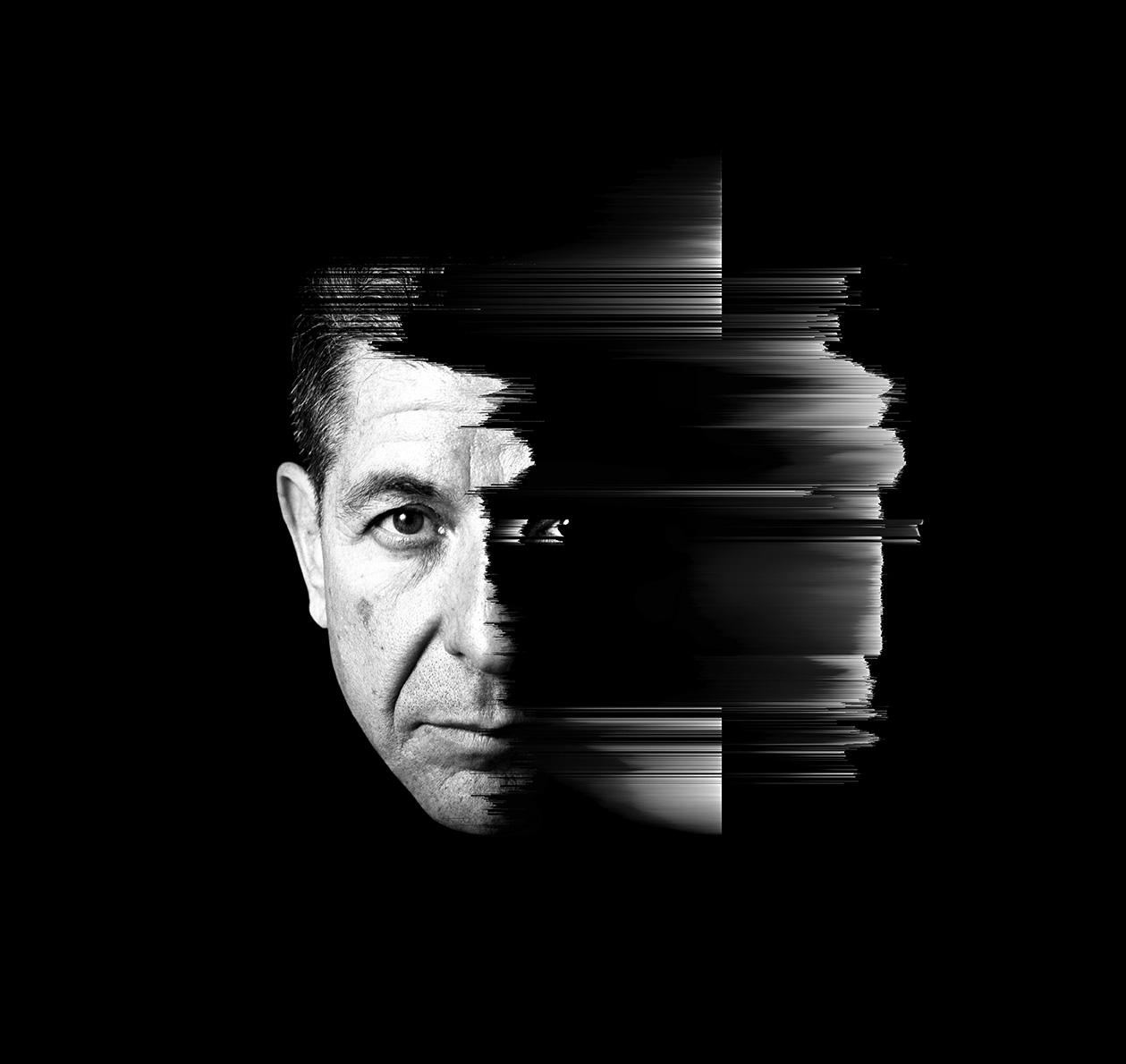 As part of the Leonard Cohen : Une brèche en toute chose/A Crack in Everything, exhibition, the MAC will be holding a series of five concerts, based on five iconic Leonard Cohen albums, during the five months of the exhibition.
Each concert will present musicians and guest singers from Montreal who will perform a Cohen album in its entirety, in an intimate setting at la Salle Gesù, in keeping with the original intention and order of the songs in the album. The series has been arranged in collaboration with POP Montréal.
November 30 – Album: I'm Your Man
Devember 1 – Album: I'm Your Man
December 14 – Album: New Skin for the Old Ceremony
January 18 – Album: Songs from a Room
February 15 – Album: The Future
March 28 – Album: Songs of Leonard Cohen
Musical director: Li'l Andy
Leonard Cohen
John Zeppetelli, Victor Shiffman, Sylvie Simmons, Chantal Ringuet , 2018, 9782551261543, 160 pages, 60 col. ill. 10.5 x 8 in, flexicover .
$39.95
Partners and Acknowledgments
The Musée d'art contemporain de Montréal (MAC) wishes to first thank Leonard Cohen, who gave his generous consent to the exhibition concept while alive. The MAC also wishes to thank the family and friends of Cohen, in particular, Robert Kory, Adam Cohen and Lorca Cohen, who provided important support for the organization of this exhibition.
The MAC is pleased to be associated with local institutional partners who have generously contributed to the production of this exhibition. The MAC extends its warm thanks to CBC/Radio-Canada, the exhibition presenter, and creator of exclusive content for the exhibition. CBC/Radio-Canada also made its archives available at no charge to the artists creating work for this project.
The MAC also wishes to thank its exhibition partners: DeSerres, Aéroports de Montréal (ADM) and the Société de transport de Montréal (STM).
Co-curatorial partners provided specific support in the realization of this exhibition. The MAC wishes to thank the National Film Board of Canada (NFB), which also made their full archives available free-of charge to the artists. The MAC and NFB are co-curators and coproducers of a work of art with the Daily tous les jours collective. The concert series Leonard Cohen: 5 concerts / 5 albums was produced in collaboration with POP Montréal.
The MAC thanks Sony Music and Sony ATV for granting permission to use the songs and archival video material of Leonard Cohen to the artists and for the purpose of the exhibition.
The MAC greatly appreciates the contribution of partners who directly supported the creation of artworks by the artists: Goethe-Institut (Candice Breitz), Spotify (Daily tous les jours), Audio Z (George Fok), Consulate General of Israel in Montreal and the Swiss Institute (Ari Folman), as well as Lytro (Zach Richter).
The MAC is a provincially owned corporation funded by the Ministère de la Culture et des Communications du Québec. It receives additional funding from the Department of Canadian Heritage and the Canada Council for the Arts. The MAC also thanks its partners Loto-Québec and Ubisoft Montréal, and its media partners La Presse and Publicité sauvage.
Finally, the Musée sincerely thanks the following for their generous support: The Azrieli Foundation, the Stephen and Lillian Vineberg Family Foundation, Nick Tedeschi and Sal Guerrera, and Claudine and Stephen Bronfman Family Foundation.
Curator(s)
John Zeppetelli, Victor Shiffman