La machine qui enseignait des airs aux oiseaux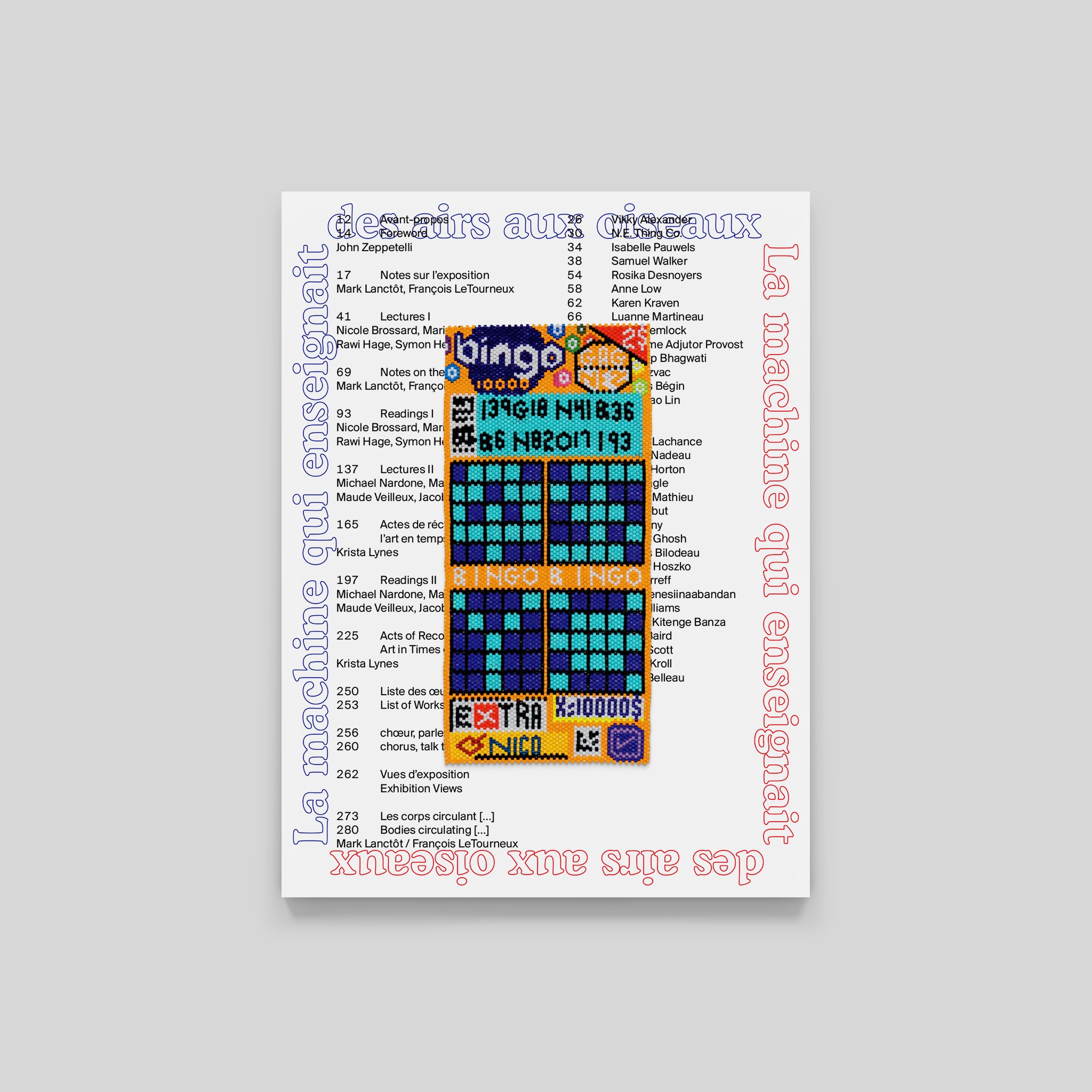 This catalogue accompanies La machine qui enseignait des airs oiseaux (the machine that taught melodies to birds), a large-scale thematic exhibition that brought together 34 emerging and established artists from Montréal and its surroundings. It is the result of research conducted around the notion of "embodied language": how language is inscribed in bodies. More specifically, the way in which various processes of transmission and translation of knowledge, memory and affects come toe to toe with the boundary between the body and technology. In a world often described as dematerialized, what can be said about the empathic functions of language? How is the plasticity of subjectivity expressed in the materiality and plasticity of the works themselves?
It includes contributions from: Krista Geneviève Lynes, professor in the Department of Communications at Concordia University, who shares in these pages a remarkable essay on the notion of recovery; artist Raymond Boisjoly, who produced a visual essay for the occasion made up of facsimiles of textual sources, which interact in content and form with the themes addressed in the exhibition; and nine authors who generously accepted the invitation to produce a short text in response to the proposed works and the thematic framework of the exhibition: Nicole Brossard, Marie-Andrée Gill,  Rawi  Hage,  Symon  Henri, Joana Joachim, Michael  Nardone, Madeleine  Thien, Maude Veilleux and Jacob Wren.
Graphic Design: Feed
Author(s):

Under the direction of Mark Lanctôt and François LeTourneux

Publisher(s):

Musée d'art contemporain de Montréal

Year:

2021

ISBN:

978-2-552-6547-3

Format:

Catalogue : 286 pages, 108 illustrations, 31 × 23 cm
Collection : 44 pages