Every Object Has a Story: Art, Research and the Reinvention of Things
au
Max and Iris Stern International Symposium 9
This year's event, titled Every Object Has a Story: Art, Research and the Reinvention of Things, gathers artists, curators and scholars to investigate the myriad ways research manifests itself in the visual arts. Questions such as the ethnographic or archaeological turn in contemporary art, the archive and re-enactment have been the subject of many exhibitions and conferences, and it is widely acknowledged that research is considered part of the artistic process, that art is a form of knowledge.
The aim of this symposium is to give voice to practitioners who explore the poetic, aesthetic, conceptual, even comical ways research manifests itself in their work. It will focus on the material object, on how the object embodies and transmits knowledge, on the synthesis of ideas and knowledge, and on how these are articulated in works of art. The notion of material thinking, of how ideas are turned into artworks, and the processes of transformation from idea to object are at the heart of this symposium.
The conference is planned to tie in with the exhibition Simon Starling: Metamorphology, which functions as a springing off point for presentations by artists and curators who employ research as an essential component of their practice. Drawing on what curator Dieter Roelstraete describes as Simon Starling's belief in the transformative potential of art, it will explore how history and the history of art, economics and geo-politics, craft and the question of making, poetry and the power of the visual are accessed in making and thinking about the work of art.
"The nature of art practice as research is that it is a creative and critical process that accepts that knowledge and understanding continually change, methods are flexible, and outcomes are often unanticipated, yet possibilities are opened up for revealing what we don't know as a means to challenge what we do know." (Graeme Sullivan, Art Practices as Research)
Speakers
Raymond Boisjoly
Artist who lives and works in Vancouver
Vincent Bonin
Author and independent curator who lives and works in Montréal, Québec
Jason Dodge 
Artist who lives and works in Berlin, Germany
Rebecca Duclos
Graduate Dean and Professor of Visual and Critical Studies at the School of the Art Institute of Chicago
Luanne Martineau
Artist who lives and works in Montréal, Québec
Dieter Roelstraete
Manilow Senior Curator at the Museum of Contemporary Art Chicago and member of the curatorial team organizing Documenta 14
Simon Starling
Artist who lives and works in Copenhagen, Denmark
Language
Primarily in English. Simultaneous translation service will be available.
Schedule
March 27: 6 p.m. to 8:30 p.m.
March 28: 10 a.m. to 5 p.m.
About the Max and Iris Stern International Symposium
The goal of the Max and Iris Stern International Symposiums is to make the latest research of today's leading thinkers accessible to the public. These scholars work in a variety of fields, such as art history, aesthetics, sociology and literature. Through this commitment, the Museum's aim is to foster a greater understanding of contemporary art and pay tribute to the Sterns by promoting their vision on the international stage.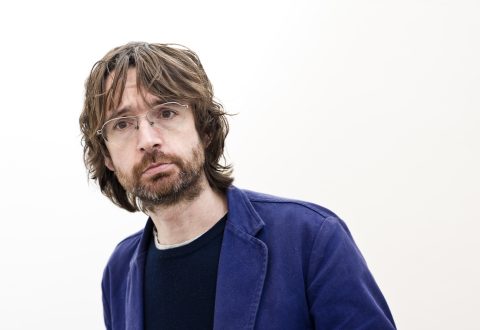 Talks
Conversation with Simon Starling
Part of the exhibiton Metamorphology